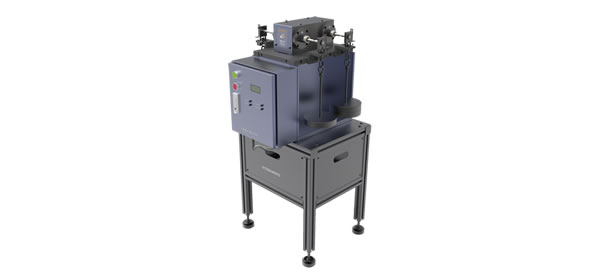 High Efficiency
GIGA QUAD® is convenient to get a number of fatigue test data very quickly, because four specimens can be tested simultaneously.
In order to obtain one S-N curve, four specimens can be tested at different stress levels by giving different weights for the respective specimens. Thus, S-N property of a definite material can be obtained within the reasonable short period.
From this point of view, the present machine of GIGA QUAD® has a significant performance of the high efficiency.

eX) Time needed for Giga-Cycle fatigue test data collection for Metal M.

Chart Comparison of Single and Dual-Spindle Testing Period
Easy operation
In this testing machine, collet nuts and collet chucks are used to fix and remove the specimens.
When the user wants to fix a specimen, the specimen is inserted into the collet chuck as indicated in this figure, and he tightens the collet nut by using a spanner.
And when he wants to remove the specimen, he loosens the collet nut by the spanner, and pull out it by fingers.
About the collet chucks, different inner diameters such as 6mm, 8mm and 10mm are prepared in advance.
Thus, the user can choose the most convenient size of the collet chuck depending on their own requirements.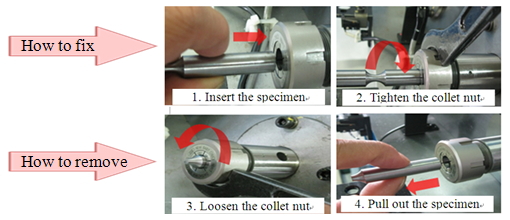 Small eccentricity
The advantage is to use high performance collet chuck and nut. Thus, small eccentricity of the specimen after chucking was realized.
Such a small eccentricity is fundamentally important to perform the fatigue tests in rotating bending.
If the eccentricity becomes large, problems of vibration and noise take place in the fatigue tests and, therefore, some extent of error is included in the applied stress.
According to preliminary experiments, no effect of the eccentricity was found for fatigue test data to obtain the S-N property, if the eccentricity is kept within ±30μm.
This is the reason why eccentricity is focused as an important subject as a ROTATING BENDING FATIGUE TESTING MACHINE.
From this point of view, the eccentricity was kept within ±30μm.
One handed type
Plating, heat treatment, thermal spray, shot peening, laser, coating….
GIGA QUAD® is suitable for any kind of research and studies for metal fatigue characteristics with surface modification.
Because the effective volume of the specimen in the cantilever bending(One-handed type) is much smaller than that in the uniform bending(both-handed type).
This means that it is small percentage that the specimen is broken by material inner defect in the case of one-handed type.
Variety of Options
GIGA QUAD® has variety of options, the speed adjusting unit, the adapter, adjust boad of long type, and the like.
Specification (for Japan)
YRB200 : the type of underneath motor
Spindle
spindle number
2
spindle speed
rpm:1000~5000
motor
kW:0.2kW-4P
Capacitance
V:200
Bearing
spindle
Angular contact ball bearing
specimen
Deep groove ball bearing
Collet chuck
chuck size
mm:φ0.5~13
Maximum load
kg:20X4
Maximum bending moment
N.mm:7938 (in case of our specimen)
Belt type
V belt M
Size of device
weight
kg:about 140
size
mm:520X500X1050
Adjust boad of standard type
2(for 50mm)
Service life
year:5
Guaranteed term
year:1
※ It is possible to change the specification for the other country.
※ Product specifications and appearance may be changed for the improvement. We appriciate your understanding.
Option
| Name | Quantity | Outline |
| --- | --- | --- |
| Adapter | 4 | weight holding part from φ5~13mm |
| Protection cover | 1 | when the cover is opened, the spindles will stop automatically |
| Weight | 1 | variety pack ※0.1kg~ |
| Corrosive environmental unit | 1 | in case of desire for doing test under an adverse corrosive condition |
GIGA QUAD® Line up
It is possible to transfer the data to a PC via the in-house-developed wireless-measurement system which includes measuring instrument and transmitter built inside the tool holder.
Dual-spindle rotating bending fatigue testing machine for low load type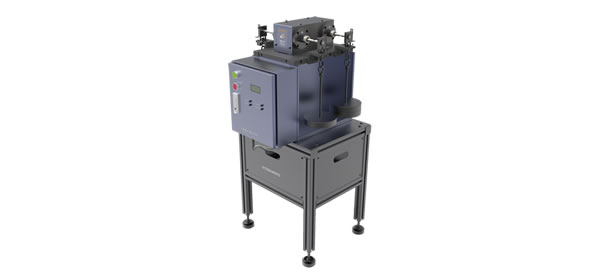 YRB200 was to be produced at high levels with high precision, high efficiency and less space.
It is suitable for the testing of giga-cycle fatigue characteristics which are supposed to take long time. It also has a variety of functions.
Dual-spindle rotating bending fatigue testing machine for high load type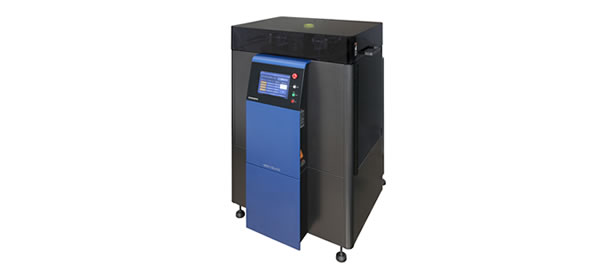 YRB300L is a higher weight model adapted for metal fatigue strength characteristics reserch with high intensity and with heat treatment.
It is designed with safety for higher weight.
Corrosion environmental testing unit
for GIGA QUAD®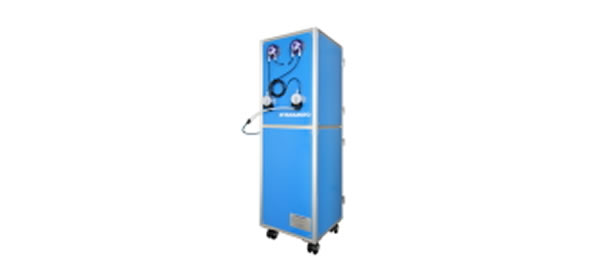 YRB200-010 can easily make corrosive environment and adapt to the test following actual environment. It is possible to perform rotating bending fatigue test under the corrosive environment.
The perfect antiscattering design of corrosive solution is being applied for a patent.
High temperature environmental testing unit (Halogen Lamp) for GIGA QUAD®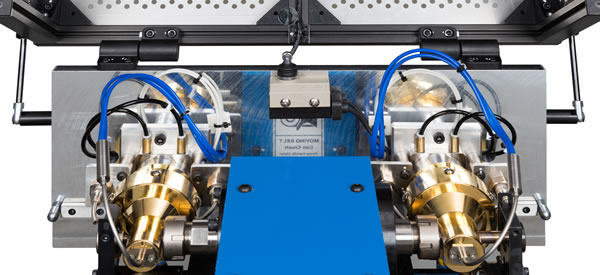 It is necessary to clarify the reliability property of structural materials at high environmental temperature.A spot light-condensed heating method is adopted in the developed high temperature unit. The light emitted from the halogen lamp is reflected and condensed to the small spot in the center of specimen.